Capture event feedback from attendees, presenters and organizing team directly after your event. Be open to suggestions and insights for what can improve. Clarify immediate next steps for your team. Rest! Let the event experience settle in your mind before making follow up decisions.
Processing feedback
Provide reminders to complete follow up event surveys.
Extend event surveys to presenters, organizers and core team.
Gather data from survey tools.
Pivot data by type of attendee and session.
Provide attendee feedback to speakers as soon as possible. Within 72 hours after the close of the event is an industry norm.
Content publishing
Prepare presentations and/or recordings for publication.
Release "Thank you for attending" communications.
Release "Thank you for participating" communication to presenters and core team.
Publish recap blog post or other communication broadly.
Ongoing strategy and next steps
How will you continue to engage with your audience?
What follow up engagements will you conduct?
How will you improve your next event?
How will you continue to invest in presenter skills and recruiting new presenters?
Schedule an event review to discuss operational improvements.
Pro tip: Thank your team
Build morale within your production team. They are essential to your success. Host a "wrap party" to thank them for their hard work. Producing live events can be very taxing on the team involved. Make sure you thank them and invest in their health and wellbeing by ensuring appropriate time off for recuperation, especially after producing a large scale or high-profile event. Do this BEFORE you conduct an event review.
Your attendees will want to review content after your scheduled live event. Plan for the lifecycle of your content by sharing recordings and presentations in a location you manage. Permissions, extended sharing, and rebroadcast decisions should be handled during pre-production.
Content on-demand
Will you publish content internally (Microsoft 365 via Stream) or externally (YouTube or other platform)?
Will you publish video only or presentation assets as well?
Ongoing conversation
Do you have a community forum where your attendees can continue to ask questions and engage?
Consider providing access to ongoing resources and experts.
Accessibility
Strive to have an accessible event and content.
Utilize features like closed captions in broadcasts, alt-text for images and the Accessibility checker for PowerPoint.
Consider releasing content in Sway or PDF format using the Export to PDF function within PowerPoint to ensure consistency and availability.
Learn more at https://aka.ms/PowerPointAccessibility.
Manage live event resources after the event
At the end of the live event, a Producer or Presenter can access the following event resources by going back to the event invitation in your Teams Calendar:
Event recording
Q&A report
Attendee engagement report
Recording for the Attendees (ability to disable)
If you want to access this option later, open the event invitation from Teams and access this window.
This view is not available to Attendees.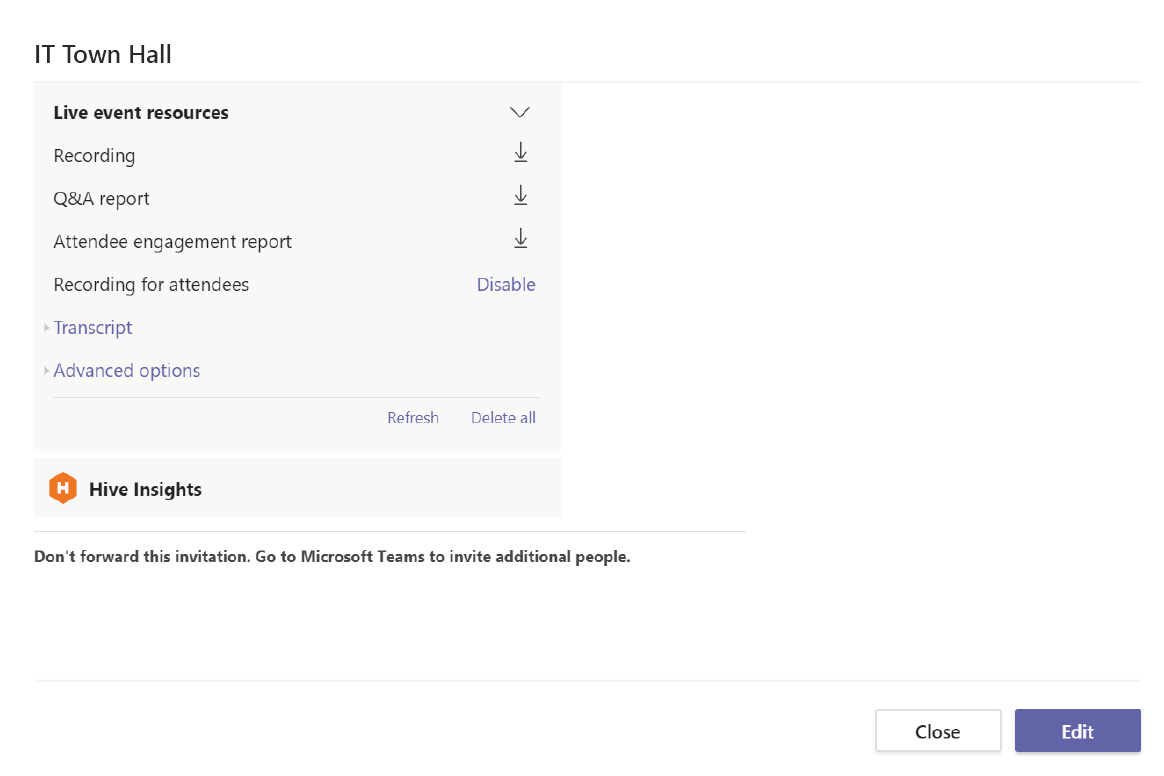 Have additional questions? Join the Virtual Event Forum!
The Virtual Event Forum is a community of people just like you who are navigating the new world of delivering virtual events. Join them and subject matter experts who can answer questions and share successful real-world experience.
Join now