Arla Foods is an international dairy cooperative owned by 9,900 farmers across Denmark, Sweden, the United Kingdom, Germany, Belgium, Luxembourg, and the Netherlands. Responsible stewardship of those farmer-owners' money plus a strategy for growth and quality that's responsive to and respectful of changes in climate and markets has made Arla Foods the world's largest organic dairy producer.
Dairy farming may seem like a conservative industry—and in many ways, it is. On the business side, however, Arla is like any other multinational company with a geographically dispersed workforce. The co-op employs nearly 20,000 people around the world, and it needs the tools to support them. At the same time, Arla isn't a publicly traded company but a cooperative, with the responsibility to its farmer-owners to spend their money wisely. So, when the in-house server hardware and software Arla ran its intranet on approached obsolescence, the co-op saw an opportunity to save money while improving the communications, collaboration, and productivity of its workforce through a modern, intelligent intranet.
The (rapid) journey from idea to intranet
Arla's original intranet was a custom-coded site built on an on-premises installation of SharePoint. The server hardware was rapidly approaching end of life, and the co-op had to decide whether to buy new hardware, renew software licenses, and bring in a third-party vendor to revise the custom code—an expensive prospect and not one the co-op wanted to spend money on.
As fate would have it, at about that time, Stig Thomsen, lead architect for My Digital Workspace at Arla, attended a talk on the intelligent intranet at Microsoft Ignite 2018. What he learned led to an avalanche of ideas back in Denmark. "Hey, we can really do something with this!" he says he thought.
"What three years ago took months of coding is now available out of the box with SharePoint. I think that's amazing."

Thomsen shared the idea with his colleague, Anna Kristensen, Product Manager in My Digital Workspace. Between them, they identified three goals for the new intranet:
Use only the latest off-the-shelf components, with no custom development.
Take a cost-conscious approach.
Adapt to new ways of working (e.g., mobile).
Over the next six months, the new intranet started to take shape.
Saving money by going evergreen
Arla, a longtime Microsoft customer, already had tools that would facilitate the collaborative future the co-op's leadership wanted. Thomsen and Kristensen wanted to keep the spending on the new intranet to a minimum and do as much of the work in house as possible. As Kristensen says, "Innovation is easy when you have all the money in the world. True innovation comes when you are challenged, and it's hard to justify funding for such projects."
SharePoint Online gave the team most of what they needed out of the box, helping them keep tight control on costs and avoid vendor lock-in.
SharePoint gave the co-op two major improvements:
Evergreen features. The co-op significantly reduced IT effort by employing Microsoft 365 because, as a software-as-a-service (SaaS) solution, its features are always up to date.
Mobile access. Mobile employees had been unable to access the intranet. As more and more employees transitioned from desktops to mobile devices, employee visits to the intranet declined, so mobile access was a significant need for Arla's global workforce.
Thomsen says, "We were able to convince leadership that because the intranet was no longer meeting employee needs and because investments in the infrastructure would be required, it was better to make the switch to a standard, future-proof SaaS platform using off-the-shelf components."
When the team ran the numbers, it became clear that the initial costs of maintaining the system in place versus moving to an intelligent intranet were about even. But the evergreen nature of the SaaS solution coupled with using SharePoint features out of the box would drastically reduce yearly costs. The co-op wouldn't only save on maintenance and recurring monthly costs but also on costs related to operating system, software, and server hardware upgrades. As Kristensen says, "It's not our money. We're owned by thousands of farmers. It's their livelihood. We have to be responsible in how we spend that money."
Out with the old, in with the new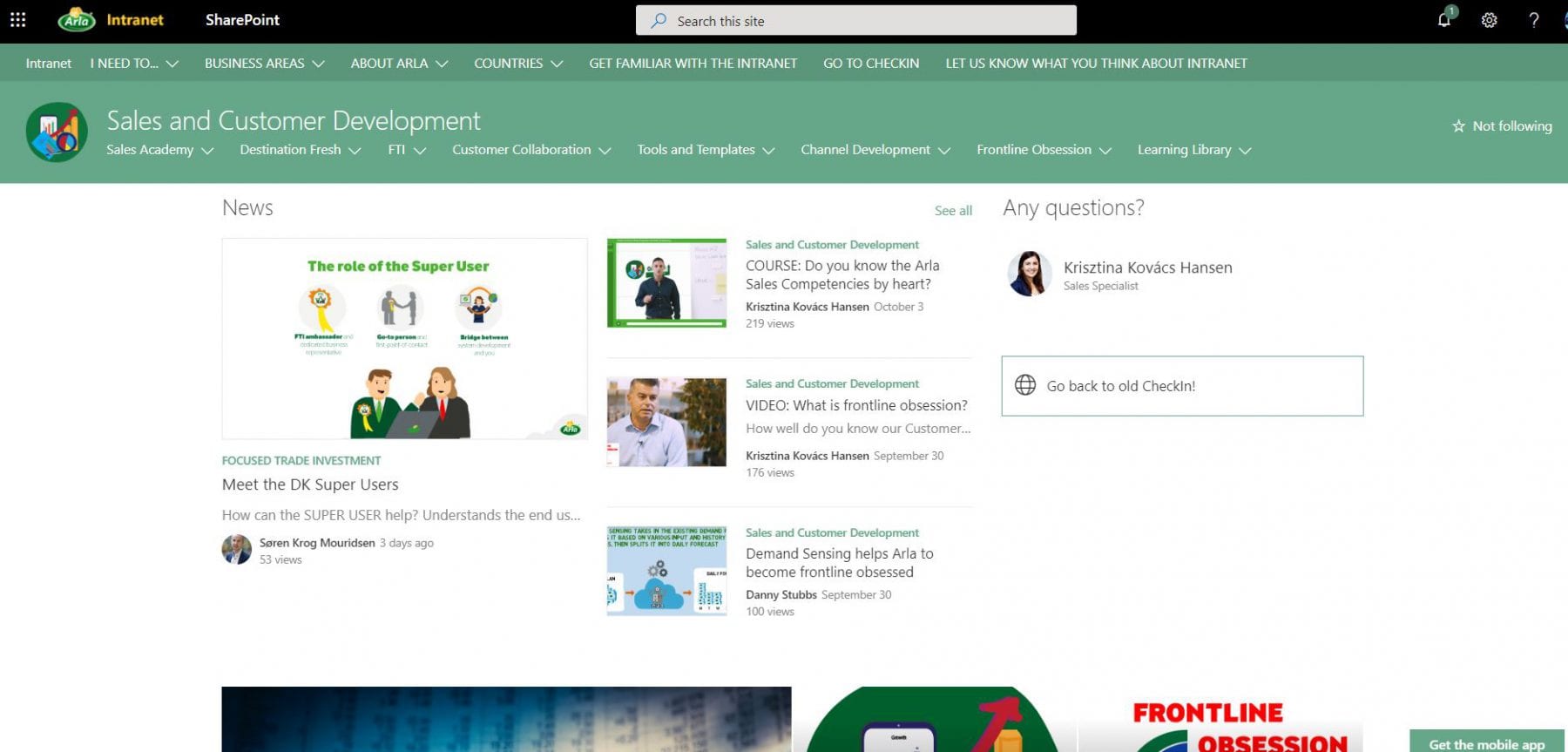 One principle that Thomsen and Kristensen emphasized in Arla's new intranet design was continuity with the navigation and structure of the classic intranet. That's where the mega menu features for the home site in SharePoint came in. With the mega menu, the new intranet has a navigation experience that mimics Arla's classic intranet. Says Thomsen, "We could get the same functionality and avoid surprises for our employees because the new intranet used the old intranet's structure."
Where the design team experienced gaps in functionality, they found easy workarounds. For example, the Corporate Communications team's most important request was that they be able to schedule news releases—an essential task for any global operation. This SharePoint feature is in the works at Microsoft, but rather than wait or turn to custom code, the team was able to create the desired functionality in less than a day by using Microsoft Flow.
The design of the final home site was effectively determined by the co-op's employees. "We basically put every out-of-the-box web part available in SharePoint onto the home site, and then asked our user group which ones they liked," laughs Thomsen. The test group consisted of about 50 people drawn from across the co-op, so the result is representative of Arla as a whole.
This landing page serves as both a home site and a hub site, and it includes the mega menu, global news, regional news, and—by far the most popular feature among employees—a 3×3 quick-link block, which helped the design team achieve its objective of transforming Arla's intranet from a communication site.
into a kind of self-service portal. Integrated search functionality gives employees the power to search across the organization for the information they need, and the team has eliminated third-party components from the intranet by migrating some existing workflows from K2 to PowerApps web parts.
That kind of streamlining was crucial because simplicity was key.
"The old intranet was called Check-In," says Kristensen, "and employees kept asking, 'When does the new Check-In go live?' But the new intranet isn't Check-In 2.0. It's a whole new intranet … a whole new philosophy."
From the home site, the team created communication sites for business areas, corporate information, individual countries in the Arla family, and more. Owners were designated for each business area communication site (e.g., Human Resources, Corporate Communications, Sales), and they had the power and the responsibility to create content for their sites. Kristensen says, "At the start of this project, we made the decision that we would migrate nothing from Check-In to the new intranet. Everything had to be built from scratch, and this ensured that only relevant content was included on the new intranet." The architectural differences between the old and new versions of SharePoint made this approach the easiest, most cost-effective way to achieve the team's goals. The communication sites' owners also appreciated the chance at a spring cleaning.
Creating the modern Arla workforce
Arla is a multinational organization. Employees work on the go, often from their mobile devices rather than from desks in an office. Arla's old intranet couldn't accommodate mobile access, and it wasn't possible to integrate Office 365 functionality. Mobile, then, was a huge driver for the new intranet. As Kristensen notes, "It's important for Arla to be a frontrunner in modern collaboration technologies to support this new way of working. At the same time, we can adapt our way of working so that our people are using these new technologies and tools the way they're meant to be used. The two can go hand in hand."
Big wins for cost-conscious approach
Arla's new intranet, which went live on October 1, 2019, is part of an integrated Microsoft 365 ecosystem. Employees now have a fast and easy way to start their workday: They can get the latest news, see what's happening in their communities, and launch the apps they need to be productive and to collaborate.
Arla's employees can still access the old intranet, but it will go offline at the end of 2019. To ease the transition, the new home site is what employees see when they launch their browsers each day. Communication site champions owners upload more content every day, and as new community sites are added, the intranet will expand, change, and offer more options for collaboration and new ways of working.
Feedback so far has been positive, and the company has invested in a grassroots engagement campaign that empowers community-site champions to tell their colleagues what makes their sites great. These champions can create the sites they want with the pages and layouts they want, but My Digital Workspace maintains a degree of control, ensuring a unified experience across sites. As Kristensen notes, "We don't want this to be an IT project. We want it to be a grassroots, bottom-up movement. The portal owners are the spokespeople for our new intranet."
"We've empowered our employees to find news and services on an intelligent intranet, accessible on all devices, while reducing our operational costs."

To date, the co-op's new intranet has produced several significant wins:
Of the 20,000 employees accessing the new intranet, 12,000 are office workers who have worked on dedicated PCs and are moving toward mobile, and 8,000 are first-line workers who now access the intranet from kiosks or personal mobile devices.
Intranet loading times are significantly faster.
Use of out-of-the-box features has meant an amazingly short time from design to rollout.
The team eliminated testing and bug-fix costs and can make changes quickly and easily without the need for customization or third-party coding, avoiding vendor lock-in.
Mobile accessibility means that for the first time, first-line workers can access the intranet.
Arla's future is collaborative
The work hasn't stopped just because the new intranet is up and running. As more communication sites go live, the My Digital Workspace team plans to add filters to enable greater personalization for employees. Thomsen gives an example: "Only if you're in Finland, for example, would you see the news from Finland, written in Finnish." He and Kristensen predict that more and more communication will move to Yammer communities, with groups collaborating in Teams. A salesperson from Sweden sums Arla's intelligent intranet up this way: "Finally, I have it in my pocket. I can use it where I am."
Arla Foods is where it is in the global market in large part because of its careful stewardship of the money its thousands of farmer-owners entrust to it. But what started out as a project to save money bloomed into an intelligent intranet that will help transform the company into the workplace of the future—one built for accessibility, communication, and collaboration. "We have standardized on Microsoft technologies, and our people are running with them," says Torben Fabrin, Arla Senior Vice President and CIO. "Now, they can be productive wherever they are while collaborating with colleagues across the continent. That's the future of Arla Foods."