It's always busy in the Adoption and Community practices at Microsoft, and that is because we are committed to ensuring you have the latest and greatest tools and content to get more value from our services. In this Ignite edition, we'll detail the hot news that we released during Microsoft Ignite and make sure you are in the know! Let's hop in…
Announcements
Microsoft Ignite – Into Focus sessions
Get a deeper dive into our announcements via our Into Focus sessions at Microsoft Ignite that are available now, like all the amazing content, on-demand. No matter what area of our product space you are working in, these sessions will help you understand the technical strategy behind our features.
Be in the know: Catch up on all the Microsoft Ignite announcements via our Book of News (https://aka.ms/BookofNews). Or take a look at the compilation of roadmap slides done by Microsoft MVP, Susan Hanley, on her website.
Microsoft Community Hub. Based on customer feedback, this site acts as a 'front door' and is the first step in simplifying your access to all the Microsoft communities have to offer. The site includes a unified listing of the various communities, integrated event calendar, and highlights of the most important part of the community, YOU. You can see who's online, who's contributing, and our Member of the Week. The communities that you interact with have not moved or changed, we have simply added this front door experience. As we move from preview into general availability of the Microsoft Community Hub there will be additional features and functionality that we will share with you in the coming months.
Community front door and CommunityDays.org
In case you missed it, you can see Jeff Teper, President of Collaboration Apps & Platforms, announce our new Microsoft Community front door (aka.ms/MicrosoftCommunity) that brings together all the best that the Microsoft Community has to offer during his Into Focus session on Microsoft 365. Bringing together the best from Azure, Power Platform, Microsoft 365, and more, you can treat this as your one-stop-shop for our community experience including event feeds, blog posts, and forums. Catch up via our new blog on Adoption.microsoft.com and visit the preview experience. We'll continue to update it with more consolidated content and tools as we move forward to our general availability in Q1 of 2023.
We also announced our CommunityDays.org site, built by the community and powered by Microsoft, that will allow people to find and organize local events near them. We are so excited to see Community Days of all kinds – Power Platform, Microsoft 365, or even a dedicated Change Management Community Day – start to take off around the world. Post your event to ensure wider visibility and get involved today.
Power Platform Community front door
As a part of our broader community strategy to simplify things for our customers, we are excited for the launch of our new Power Platform front door. Since the launch of our communities, our goal has been to provide you with the best experience, including findability and a one-stop-shop for all things Power Platform. We are thrilled to announce the new landing page for our Power Platform Communities, which will help you navigate and find your way easily to everything from forums to top posts and questions for each area of Power Platform, to specific communities for Power BI, Power Apps, Power Automate, Power Virtual Agents, and Power Pages. Check it out today: https://aka.ms/PowerPlatformCommunities.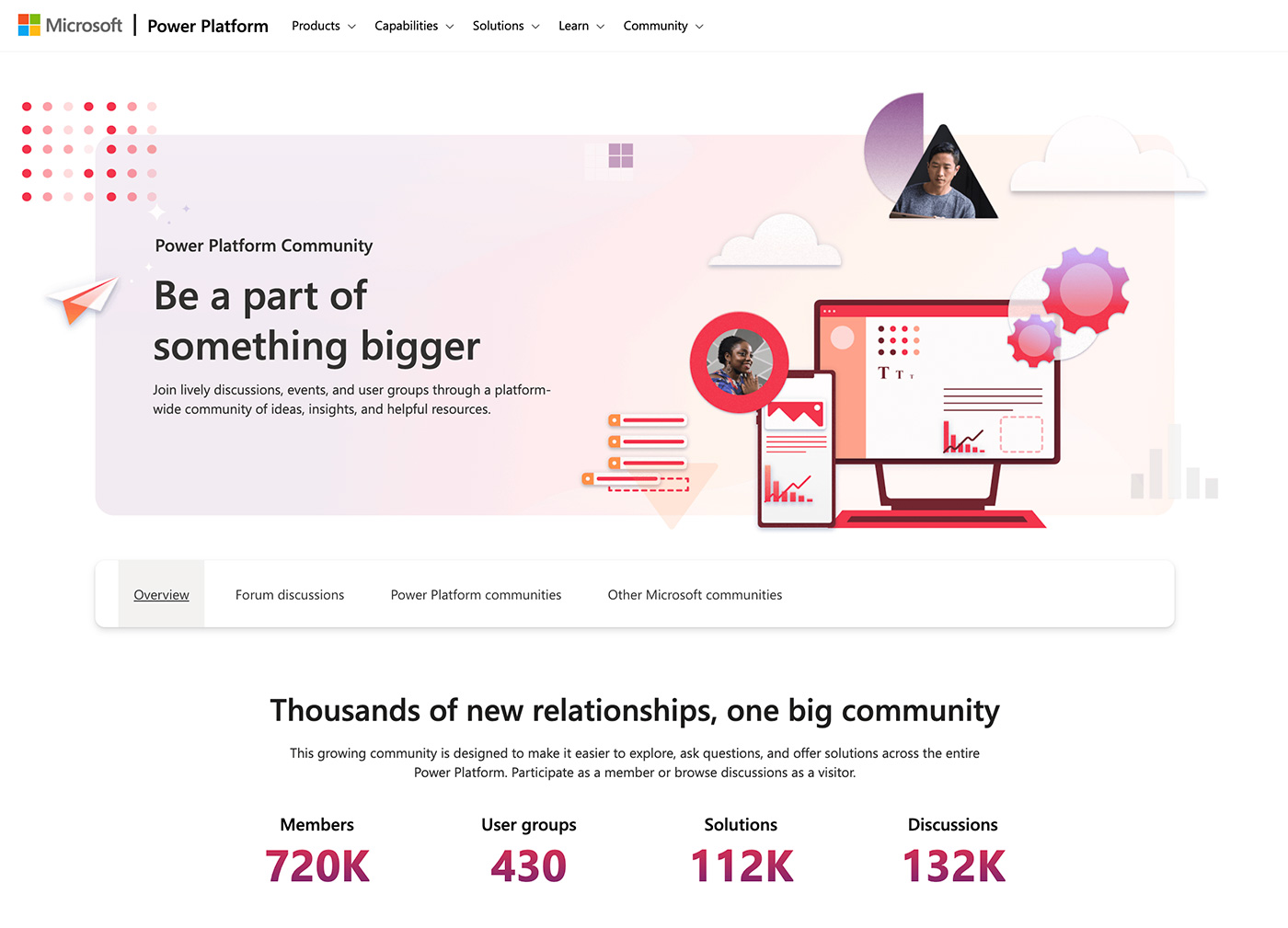 New tools & features
Microsoft Power Pages now in general availability
Microsoft Power Pages is a new quiver in our toolkit to build compelling, data driven experiences for our customers. Learn more about this offering and why it is an important part of your collaboration and customer engagement toolset from Hugo Bernier's blog in the Power Pages community.
Microsoft Power Pages now in general availability
We are excited to announce that the Microsoft Teams Emergency Operations Center is now in general availability!
Use the Microsoft 365 Services you have today to better respond to incidents tomorrow. The Microsoft Teams Emergency Operations Center (TEOC) solution template leverages the power of the Microsoft 365 platform to centralize incident response, information sharing, and field communications using powerful services like Microsoft Lists, SharePoint, and more. An open-source solution supported by Microsoft, it provides core functionality out of the box or can be extended to meet specific agency requirements by in-house developers or Microsoft Partners.
Visit the Microsoft Teams Emergency Operations Center information page to find out more and deploy this solution today.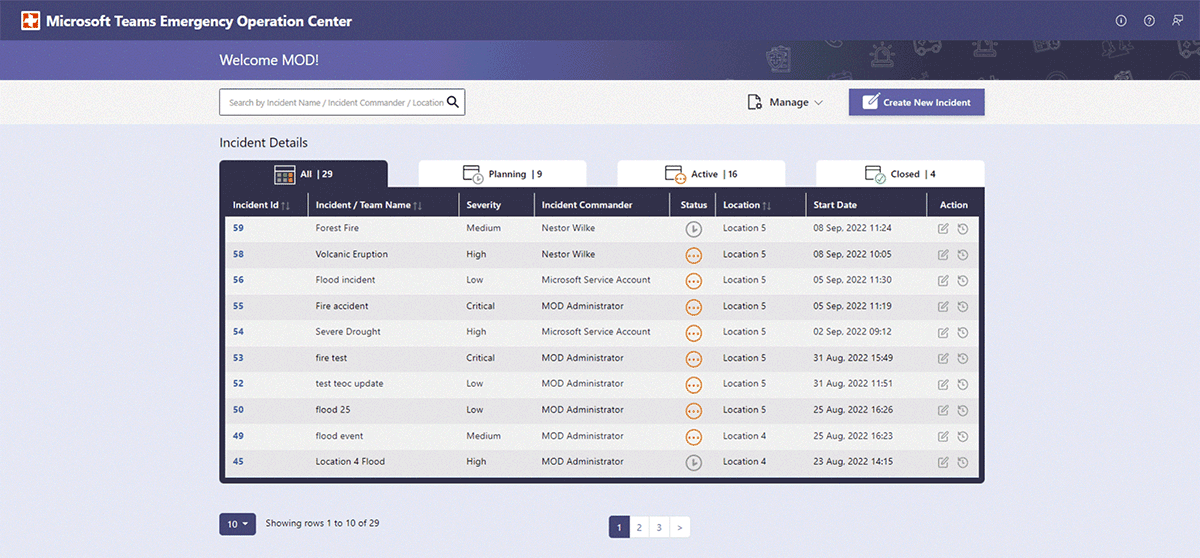 Interactive Virtual Event Playbook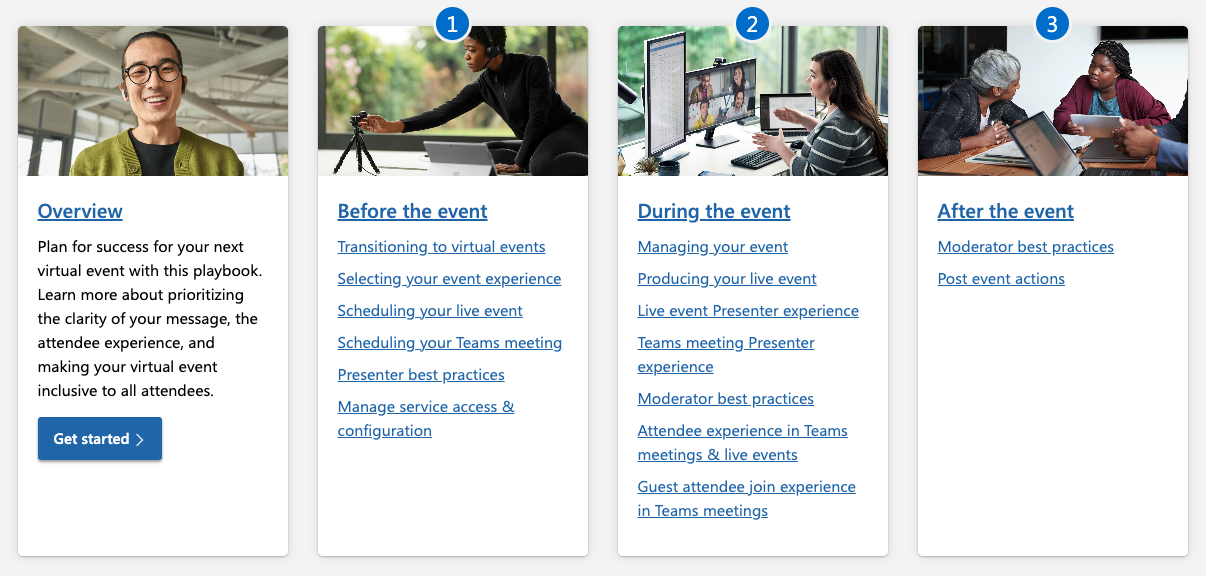 The new interactive web version of the Virtual Event Playbook is here! No more huge downloads, and it's fully localized in nine (9) languages. The Virtual Event Playbook at aka.ms/VirtualEventPlaybook will guide you through the best practices for using Microsoft 365 technology to deliver compelling events. Organized by event delivery phase and role, you can access the content you need whether you are an Organizer, Producer, Presenter, or one that wears many hats. This content was compiled through the contributions of many people across Microsoft who have been involved in delivering our flagship events, webinars, and leadership townhalls. We strive to prioritize accessibility, inclusion, and engagement as we create the new standard for the audience experience.
Visit aka.ms/VirtualEventPlaybook to plan for your next digital event!
Where to connect
Microsoft 365 Champions Call – Get monthly updates on new features across Microsoft 365 and the best ways to get folks to use them.
Power Platform Community Call – Devoted to makers and business applications enthusiasts with deep dives and hot topics each month.
Microsoft 365 Platform Community – This community has a series of calls each month to help you build useful productivity experiences.
Microsoft Global Community Initiative – Have your voice be heard, hear what Microsoft is supporting next, and meet other community members and organizer like yourself in our monthly community calls. Sign up for the newsletter & initiative here to receive the call details.