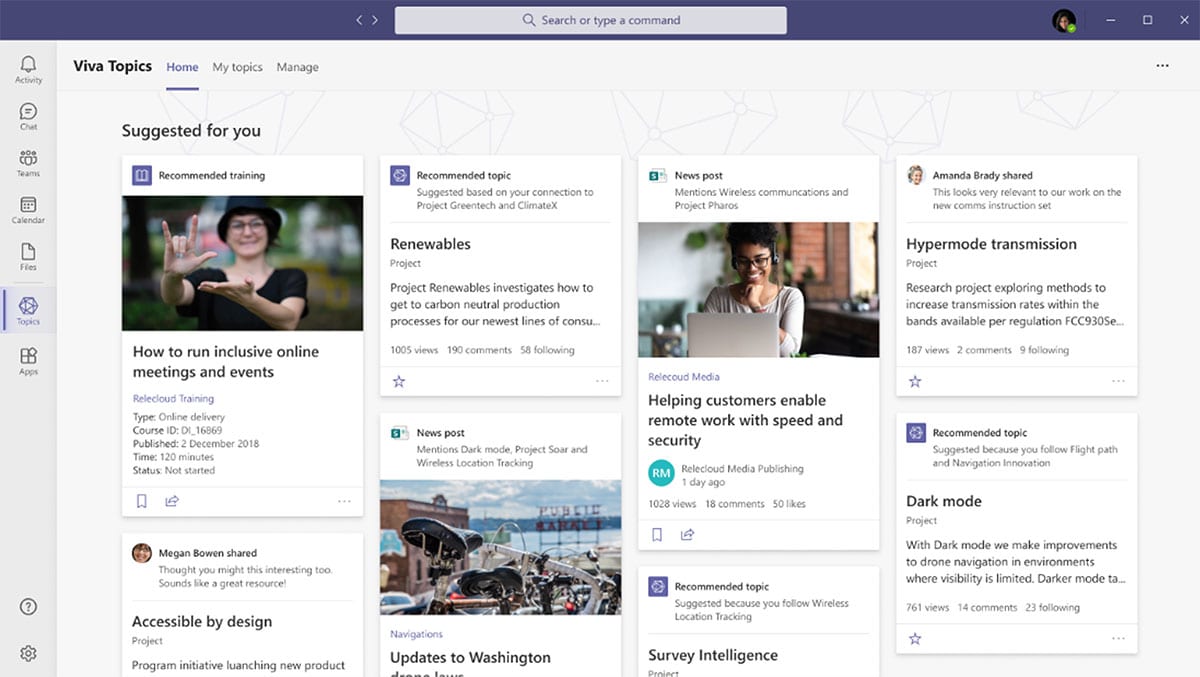 Microsoft Viva Topics applies AI to empower people with knowledge and expertise in the apps they use every day, and to connect, manage, and protect content across systems and teams.
Turn content into usable knowledge
Use AI to reason over your organization's data and automatically identify, process, and organize content.
Organize knowledge into topic pages
Enable your organization's experts to share and refine knowledge through curated topic pages, automatically generated and updated by AI.
Make knowledge easy to discover and use
Deliver timely, relevant topic cards in the apps people use every day.
Learn more
"Typical company ROI for improving onboarding times: $9.7 to $17.1 million, improving discovery: $42 to $127 million"
Forrester New Tech TEI Report commissioned by Microsoft, January 2021
Content AI Partner Program
Our Preferred partners are ready to support Microsoft Viva Topics today. If you'd like to find a Preferred partner, or become one, learn more about our Partner program.
Learn more
FastTrack self-service deployment guide
This guide will help you to deploy Viva Topics to enable AI to automatically organize content and expertise across your systems and teams into related topics, like projects, products, processes, and customers.
View the guide
Learn more about FastTrack
Register for more details
Stay informed about Microsoft's Employee Experience platform – Microsoft Viva that brings together knowledge, learning, communications, resources and insights into an integrated employee experience to empower people and teams to be their best.
Register now