Best practice guidance – online seminar
Yi Ting is a Customer Programs Coordinator and uses Microsoft Teams to organize free educational seminars for first-time homebuyers. These online seminars never exceed 1,000 attendees but she requires registration, so that she can follow up with attendees after the event.
Step-by-step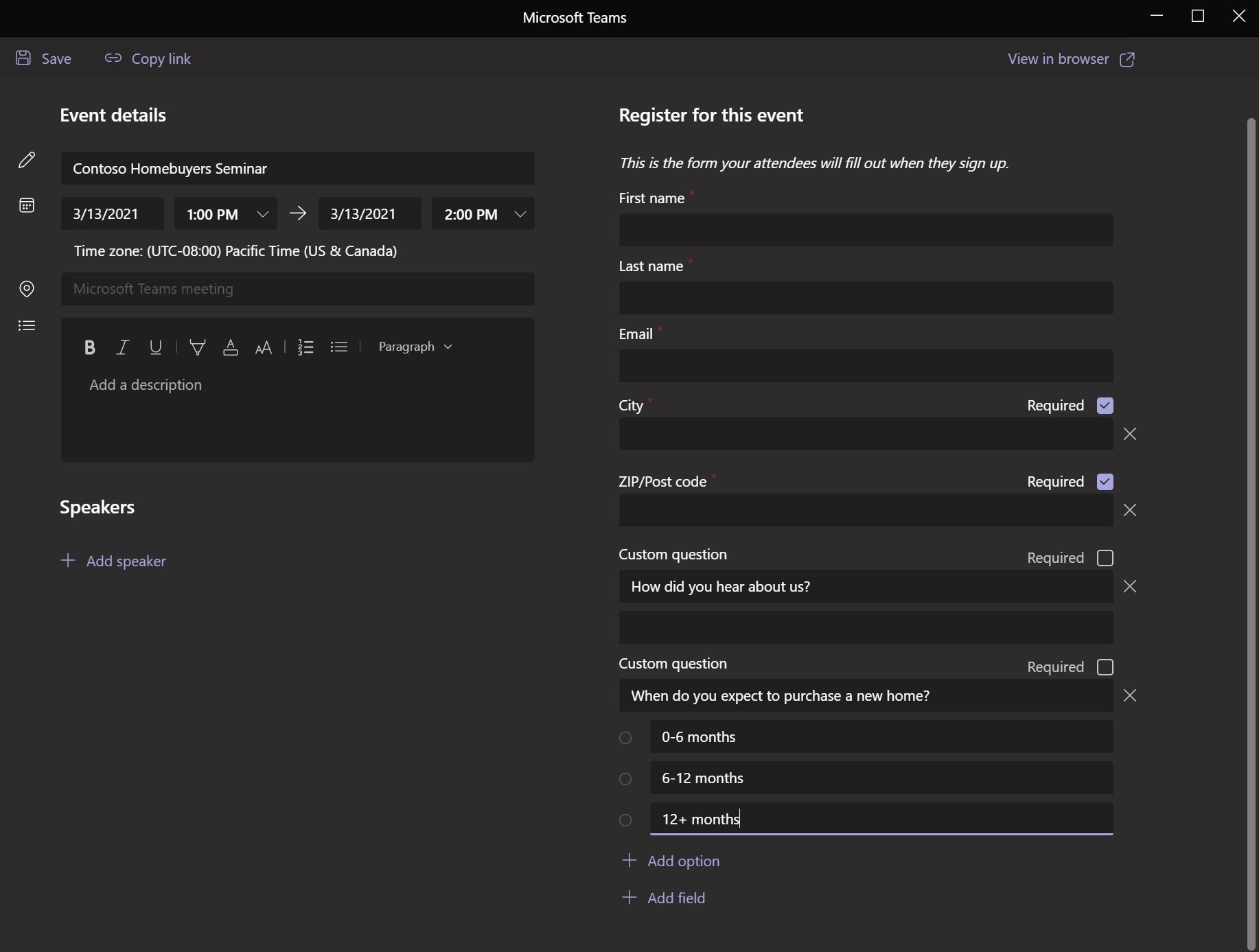 Yi Ting navigates to her calendar in Microsoft Teams desktop app and selects New meeting.
She adds the title of the seminar, the presenters, and event description to the Details, and updates the time to include a 15-minute pre-event buffer so that presenters know to join early for last minute audio/video testing. Yi Ting selects Require registration: For everyone to allow the public to register and attend, and then selects Customize registration form, which opens the form in a pop-up window.
In the registration form, she adds the precise time the event will start for attendees, a description, and speaker bios to the Event details. Noting that First name, Last name, and Email are already required questions, she adds additional fields to include City and ZIP/Post code, as well as two Custom questions to ask how they heard about the seminar and when they anticipate buying a home.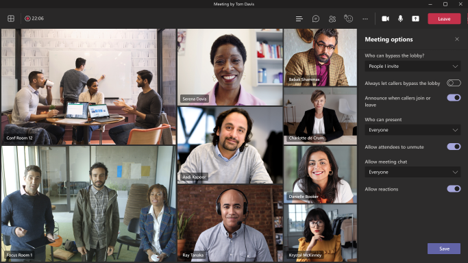 When Yi Ting is done customizing the registration form, she selects Save and View in browser to confirm it looks correct from an attendee's point of view. She then selects Copy link to copy the event registration link to use in the official event invitation and closes the pop-up window. A link to this form can also be posted on her company's public website.
Back in her Microsoft Teams calendar, Yi Ting sends the meeting invite to the webinar presenters and works with her marketing team on the official event invitations and webpage, using the registration link she copied earlier. Remembering that she needs to allow the presenters to share content, she returns to the calendar invite to change the Meeting options, also allowing attendees to bypass the lobby, as well as ensuring meeting chat and reactions are enabled to encourage Q&A participation.
After the event, Yi Ting downloads the registration report from the invite in her Microsoft Teams calendar and creates a mailing list to send additional information on how her company can help people become homeowners.
Do more
Use Dynamics 365 and Microsoft Teams to track your customer engagements
Customize your Outlook email