Best practice guidance – weekly status meeting
Pragathi is a Communications lead and uses Microsoft Teams to schedule weekly status meetings and share updates with the greater project team. These status meetings usually have about 25 attendees and everyone is an internal employee.
Step-by-step
Pragathi schedules a New meeting from his Microsoft Teams calendar, ensuring that a Weekly recurrence is selected before sending the new invite series out.

He lets everyone know that the first meeting is a brainstorming session by posting a message in the meeting Chat. During the meeting, Pragathi uses the Whiteboard function to visually map out the team's ideas, after which he'll export directly into the Meeting notes tab.
Two days before each subsequent week's meeting, he uploads a PowerPoint presentation to the meeting Files tab, sends the agenda outline in the meeting Chat, and @mentions the other leads to update their respective slides in the PowerPoint.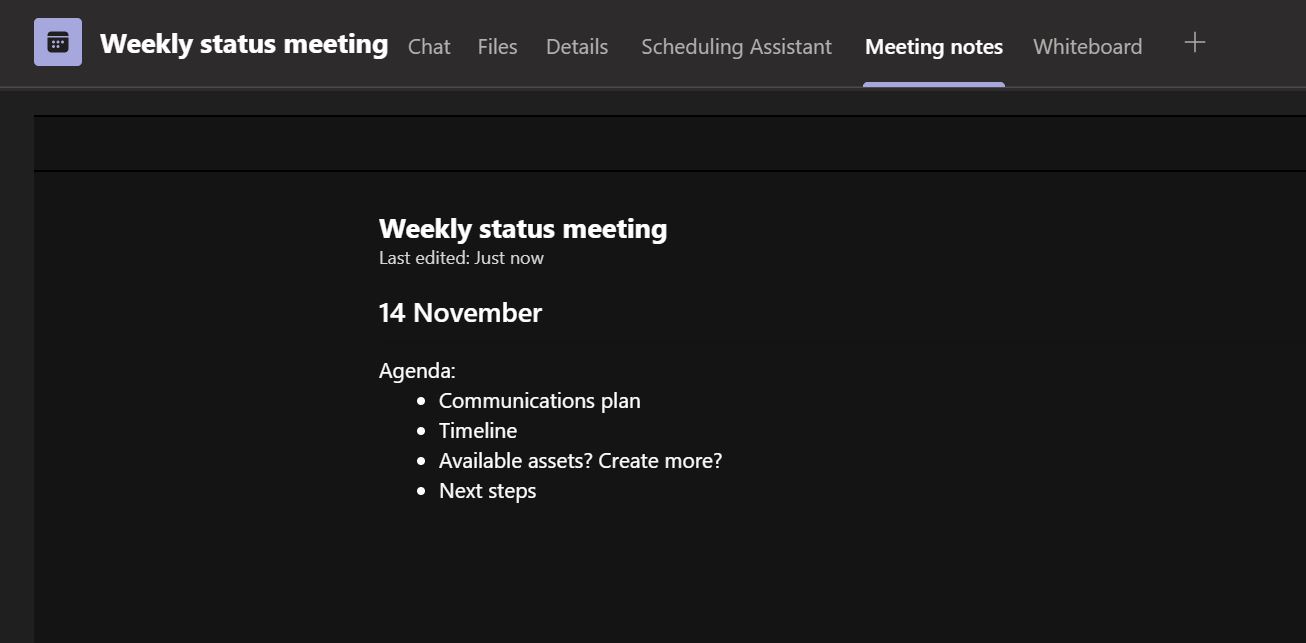 When the meeting starts, Pragathi follows a few best practices:
Starts recording & transcription for anyone who could not join so they can catch up later, and he can double-check the notes.
Asks another colleague to use the Meeting notes to capture any additional discussion points, future agenda topic ideas, follow-up items, or post-meeting tasks.
To make sure the meeting is inclusive, he turns on closed captions and lets everyone know that if they'd like the floor to speak to simply use the raise hand feature to be recognized.
Switches his view to together mode so that he can easily see all the attendees in a more engaging view.
During the meeting, attendees send fun GIFs and Reactions in the meeting Chat, helping boost and maintain morale in their fast-paced work environment. Any follow-up items or post-meeting tasks can be assigned by @mentioning team members directly in the Meeting notes. When Pragathi is sharing the PowerPoint presentation, he switches his presenter mode to side-by-side so everyone can see the content and his video in a dynamic view, and team members can navigate through the content on their own as well.
Afterwards, they can easily refer to the meeting series to access previous presentations, replay recordings, and review the notes and any action items.
Meetings and wellbeing
Meetings are an important part of our day and where we experience the culture of our companies. View this video to get suggestions for practices that will ensure your meetings support a positive culture and still allow time for individual reflection and productivity.
Watch video