Preferred and charter members
To help accelerate customer success with employee experience and content services, powered by Microsoft 365, Microsoft Syntex, Microsoft Viva Topics, and SharePoint, we launched the Microsoft Content AI Partner Program to support our partners delivering solutions that make the transformation of your content management approach practical and attainable.

The preferred and charter members of this partner program is listed below, along with case studies that showcase their expertise and success.
Microsoft Syntex Launch Partners
We're honored to recognize the Microsoft Syntex Launch Partners. These are Preferred members of the program who have been helping customers leverage the power of AI integrated into the flow of work to manage content throughout its lifecycle.
Partner eligibility
Our preferred and charter partners are being recognized for their proven success in high-impact scenarios and workloads, including the following:
Advisory and consulting
Help plan for new systems and improvements to existing systems.
Deployment
Deploy new systems and integrations, including training and support.
Adoption and change management
Help organizations prepare, plan for, and adopt new technologies and ways of working.
Modernization
Help move customers to modern systems and utilize modern applications.
Migration
Move systems from one operating environment to Microsoft 365 to drive Microsoft Content Services and Microsoft Viva value.
Compliance/Records Management
Manage regulatory and product control information, company policies, and records throughout their lifecycle.
To qualify for the Microsoft Content AI Partner Program, partners must be members in good standing of the Microsoft Partner Network, have experience supporting the workloads above, have participated in related training, have a relevant solutions partner designation (formerly competency), and be focused on key industries.
Program incentives
As part of the Microsoft Content AI Partner Program, preferred and charter members can work with Microsoft to develop solutions that put customer needs at the center. You can recognize Microsoft 365 Content Services preferred and charter partners by the use of the Microsoft Content AI Partner logo.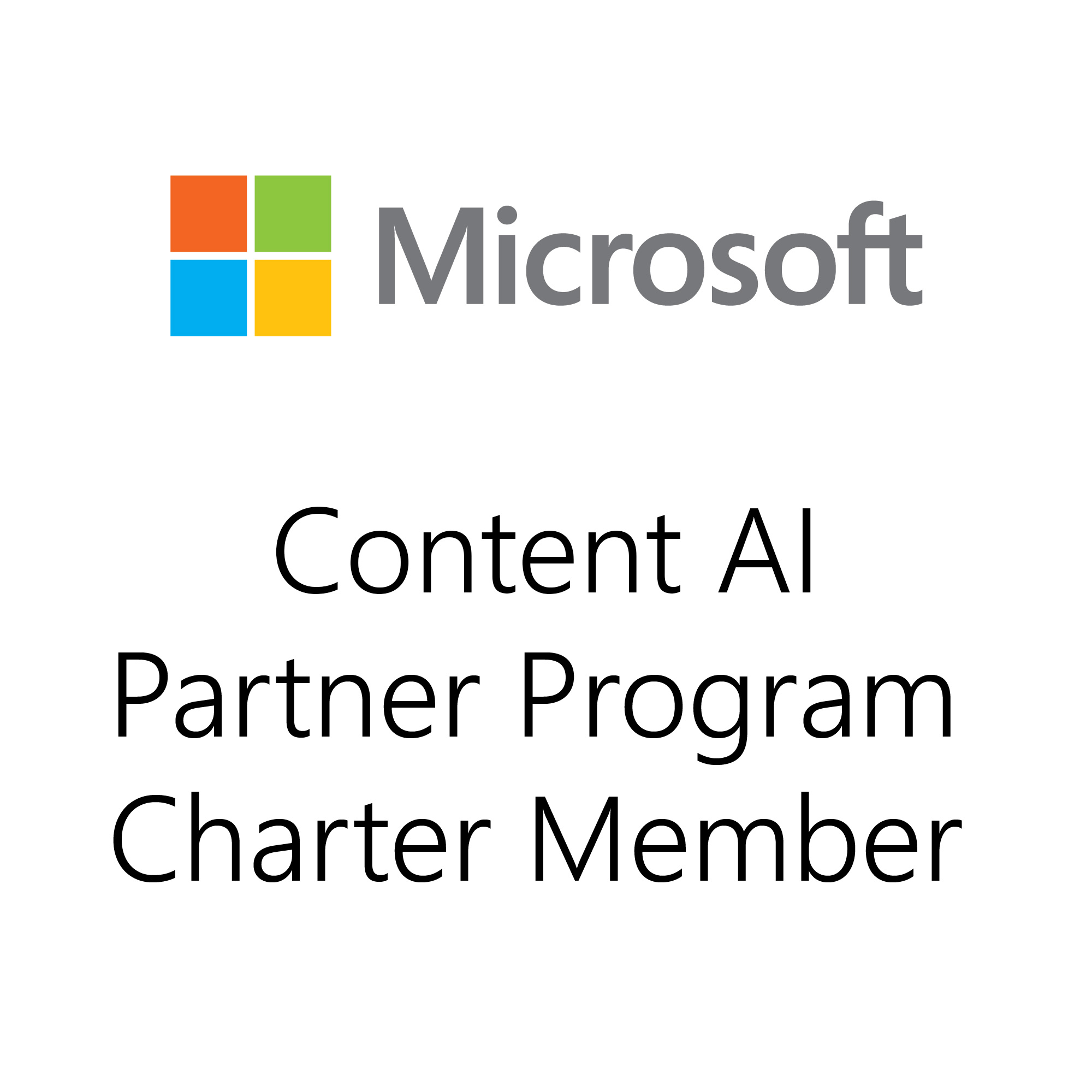 Program resources
Learn more about our offerings and how to align to the program with the following resources:
Registration and onboarding
We're currently accepting applications for the Microsoft Content AI Partner Program. We're looking for partners focused on Content AI, who can help us drive adoption of Microsoft Syntex, Microsoft Viva Topics, OneDrive for Business, and Microsoft Stream. We'll review them on a quarterly basis.

For more details about the program, requirements, commitments, and application process, check out the CAPP FY23 Overview Deck.
Apply now
Browse all partners
No partners found with those filters.
Register for more details
Join the official mailing list for important updates and announcements about Microsoft Syntex, our Content AI solution.
Register now