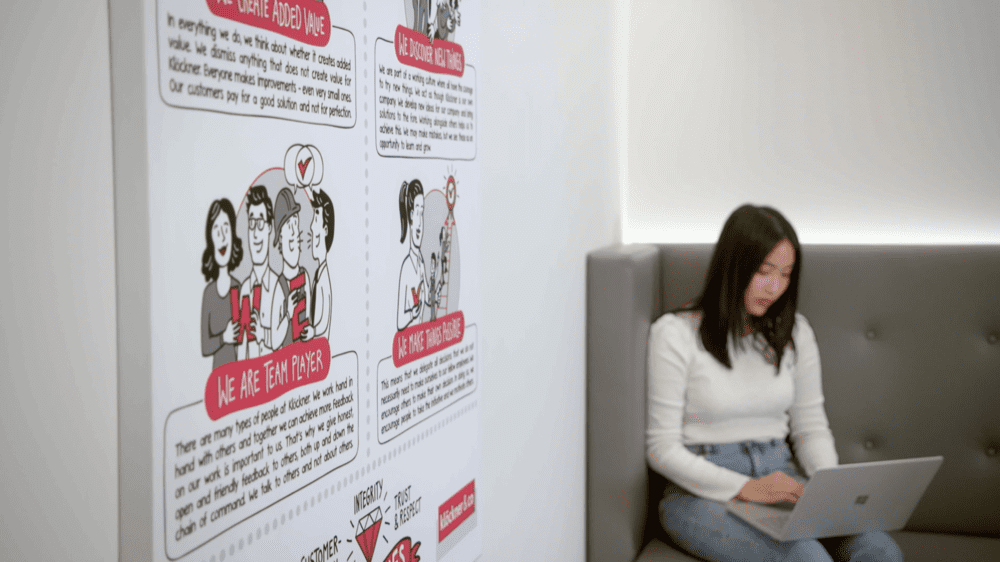 Steel is a conservative, old-school industry—one that Klöckner & Co has been part of for more than 110 years. Klöckner is one of the largest producer-independent distributors of steel and metal products in the world, with a distribution and service network of 160 locations in 13 countries that reaches more than 100,000 customers. But despite its long history, Klöckner is a progressive company.
Working within an industry characterized by intense competition, global overcapacity, and volatility caused by strong fluctuations in market prices, Klöckner knew that it didn't want disruptors to blindside the company: It wanted to be the disruptor.
Simply increasing efficiency and implementing cost-saving measures wouldn't cut it. Digitalization, however, offered Klöckner the opportunity to be a pioneer in its industry. Through digitalization, the company would collaborate with its customers. It would improve efficiency through automation.
That digital transformation would begin with a culture change within Klöckner itself. Klöckner CEO Gisbert Rühl says, "We want our employees to understand our digitalization strategy and to contribute to reaching our company's ambitious goals.
Hierarchy-free communication
To promote the culture change Rühl wanted, he pushed for a radical new approach to communication within the company. "Management and communicators need to build bridges between problems and solutions to overcome the fear of changes that digitalization brings. The key to this is hierarchy-free communication," Rühl says.
So, Klöckner augmented its existing intranet with Yammer, taking the company to the next level: hierarchy-free, open communication. The Yammer rollout was a huge success, and the company was able to drive adoption to 70 percent. A small team from Vienna-based atwork, a Microsoft partner, supported Klöckner in this transformation. Martina Grom, atwork CEO says, "Klöckner has broken down the existing vertical communication silos in favor of an unfiltered, increasingly horizontal form of dialogue. The company engages the entire workforce—and its creative power."
"With Yammer, I chat with my employees every day. I do it every morning for half an hour."

Rühl now drives all corporate communication via Yammer. He says, "With Yammer, I chat with my employees every day. I do it every morning for half an hour." Rühl sends no special CEO emails or communication through the management teams. "All my communications go through Yammer to all employees," he says, and he invites them to contact him directly by using the #AskYourCEO hashtag.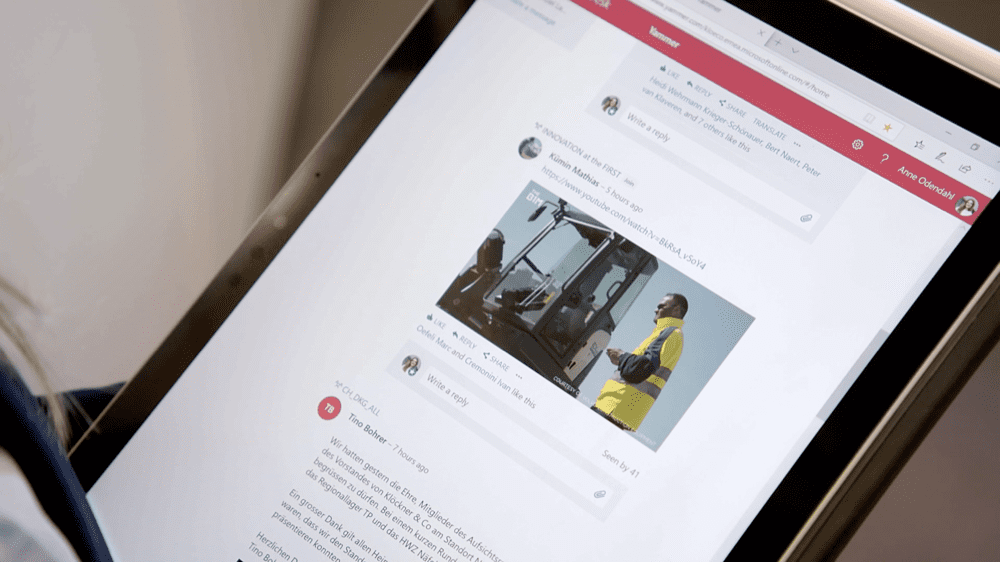 With Rühl driving the push for open communication among employees, the switch to a consolidated intranet was overdue. The original static intranet was still in use for document storage. According to Marc Grewe, Senior Manager of Investor Relations, Internal Communications & Sustainability at Klöckner, "There was a gap between the dynamic, high-frequency digital culture—evidenced by strong Yammer adoption—and more traditional disciplines relying on static content."
To close this gap, Grewe and Grom drew insights from a previous attempt to build a digital workspace, assembling an agile project team consisting of only four people and the atwork team. The team built a simple decision-making process, based on employee surveys, that would eventually become the framework for Klöckner's new, intelligent intranet: #DigiDesk. Marc says, "We did not define any rules for #DigiDesk. We let our employees shape their own experiences. The only thing we wanted was to get feedback."
"Yammer was the driver that brought #DigiDesk to life."

Communication sites change the game
Based on the project team's analysis of employee responses and corporate requirements, it identified the following goals for Klöckner's intelligent intranet:
Provide a mobile-first experience that allows deskless workers to participate in the intranet.
Allow each country and regional office in Klöckner's multinational family to shape its own intranet experience, increasing local acceptance and popularity.
Target news, information, and Yammer communications regionally to reduce information overload while allowing people to get a global view when necessary.
Embrace an evergreen approach to keep costs low, reduce maintenance, and ensure that new capabilities can be taken advantage of as they become available.
"Communication sites in SharePoint Online were a game-changer. We could quickly create responsive pages that look great in the SharePoint mobile app without spending money on developers to customize functionality, navigation elements, and templates."

The project team chose to build an intelligent intranet based on Microsoft 365. "It checked all the boxes for Klöckner," says Grewe. For example, "Communication sites in SharePoint Online were a game-changer. We could quickly create responsive pages that look great in the SharePoint mobile app without spending money on developers to customize functionality, navigation elements, and templates."
Klöckner will use Microsoft 365 to ensure that its new intranet, tools, and services are always current—with minimal IT effort. As Grewe says, "An evergreen service ensures that new features, improvements, and enhancements are adopted automatically. It challenges us always to be up to date."
Klöckner's intelligent intranet: #DigiDesk
Partnering with atwork, Klöckner created individual communication sites for each country that has a Klöckner office, plant, or warehouse. Each communication site blends communications and content management in one environment that the project team mixes as needed for different groups or countries. For example, teams can share important documents and announce them with news articles so that they're more visible and widely read. In addition, employees use the simple page design and intuitive navigation to access important pages from areas such as human resources and compliance.
Similarly, Klöckner includes only Yammer communities relevant to a particular country on each #DigiDesk, or country communication site. Each site includes targeted editorial content from only those communities. This addresses what was once employees' most common feedback: They want to see only the content that's important to them.
"Everything an employee cares about is in one place," says Grom.
Klöckner also created a hub site for the entire company, called #DigiDesk Global, and connected each communication site to it. Grewe says, "While we've created individual communication sites that give employees local views, we connected each to a hub site that gives them access to the entire Klöckner universe." Employees can easily share best practices, files, and news globally.
As Grewe states, "We quickly learned that #DigiDesk was not just a manifestation of functional and design modernization. The more personal and country-specific the content, the more interest it arouses." Grom goes on to say, "With the hub-site model, every country facility or office could keep its individualism, which is essential in a multinational organization."
Incredible diversity characterizes Klöckner's strong global team. The company employs people from about 70 countries, including digital professionals, office staff, and warehouse workers across the globe. So far, the team has rolled out regional #DigiDesk sites for Germany, Austria, the United Kingdom, Switzerland, and France. In total, each of about 5,500 employees worldwide now has access to a unique #DigiDesk tailored to his needs and interests. Further rollouts are in the works. Until then, all 8,500 employees can view the content in existing hub and communication sites.
Mobile-first experience for deskless workers
That diversity even extends to devices. To get everyone involved in digitalization, Grewe and Grom knew that first-line, logistics, and other deskless workers would need access to Klöckner's intranet.
That requires a mobile-first experience.
To create such an experience, they use the free Yammer and SharePoint mobile apps for smartphones and tablets. "By default, all employees have a Microsoft 365 license and can access all content and tools through mobile apps on their personal smartphones and tablets," says Grewe. Employees use the Yammer and SharePoint mobile apps to quickly access #DigiDesk and stay on top of relevant conversations and documents, and to stay in touch with colleagues.
"By default, all employees have a Microsoft 365 license and can access all content and tools through mobile apps on their personal smartphones and tablets."

Horizontal solution pays dividends
From the beginning, the team had opposed a top-down solution to Klöckner's intranet reboot.
"Our basic idea has always been to create an intranet for everyone, one that lives based on feedback from everyone and is constantly developing," says Grewe. "Many intranet solutions fail because people feel that the content is centrally controlled and the solution is forced on them."
Instead, the project team created the framework but left the design (the use of web parts and curated content) to the country-specific project groups. Klöckner's empowering approach to the intelligent intranet is paying off: The response among its employees has been outstanding. Grewe says, "#DigiDesk has been well received, and regional project teams feel that they have implemented the intranet themselves."
"It's simply fun to work with the communication sites in SharePoint Online. The design is appealing, and the handling when creating content is simple and self-explanatory."

Klöckner benefited more from the rollout than expected. For example, each country's team seized on the opportunity to discard outdated content. In addition, the company uses the intelligent intranet to light up other Microsoft 365 applications and features, and that's further increasing adoption. Now, when an employee opens a browser, her unique communication site pops up with everything she needs for work that day, and the app launcher makes tools more discoverable without the hassle of installation.
Klöckner distinguishes itself
Because employees have a personalized experience containing content they care about, even on mobile devices, the response to #DigiDesk has been overwhelmingly positive. As one employee said, "I find #DigiDesk interesting, informative, and easy to navigate. It's good to have everything in one place. I'm impressed!"
Page views for the company's intelligent intranet only amplify that sentiment:
Old intranet: 80,000 visits per year
#DigiDesk: 2.4 million visits per year
"Other companies that had heard about what Klöckner was doing with its intranet wanted to hear the 'Klöckner story'—how an old-fashioned company was able to embrace digitalization," says Grewe. "They wanted to learn from us how they could start their modern-workplace journey." To help other companies follow their path, Grewe and Grom shared the Klöckner story in a session at the SharePoint conference in Las Vegas.
Rühl adds, "We see the successes we've already achieved in terms of the digital transformation—as well as in the growing interest in the subject among customers, suppliers, and competitors—as confirmation that we're on the right track."
Klöckner isn't satisfied, though. It's still exploring the opportunities that its intelligent intranet offers. Future efforts will include incorporating SharePoint home sites to encourage users to network and collaborate with each other even more. In addition, Klöckner has recently rolled out Microsoft 365 learning pathways worldwide. Klöckner is confident that it will further increase employee adoption of and satisfaction with Microsoft 365 apps and services by using learning pathways—and help the company get even more out its IT investment.
Klöckner's adoption and promotion of digitalization have set the company apart from competitors in its industry. As Rühl notes, "We stand out from the competition with digital solutions, such as online shops and contract portals, because our solutions make it easy for customers to work with us." Of course, Klöckner's intelligent intranet is a cornerstone of that mission and the company's key to faster, more agile business through communication and collaboration. The future of steel is digital, and Klöckner is pioneering the way.
For more information about Klöckner's strategy, visit www.kloeckner.com/en/group/strategy.html.