It is always exciting to feel momentum, after many months, years now of virtual events and "meeting" behind screens! It has been wonderful to start connecting "in real life" with community members. In my role as Power Platform & Dynamics 365 Community Success lead, I started this position during the pandemic and where I was previously a Microsoft 365 MVP with twenty years of "road warrior" experience and having been an event producer for years, I too had been on 'hiatus' from travels and needed to dust the cobwebs off my favorite travel bag and kit. I have traversed out and attended three in person events since this past Spring and have a few more in the books for this year. Not everyone can take advantage of in person events for various reasons so there is an inclusivity and geographic goodness to virtual that is wonderful and that I believe is here to stay. I do have to say that #IRL the past few weeks is good for refueling one's engine and connective tissue to a place where I feel like I belong. #CommunityRocks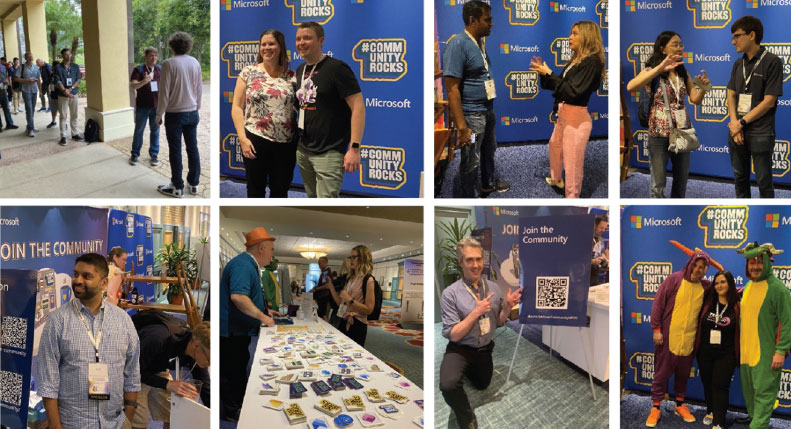 Last month, Microsoft sponsored the Microsoft Power Platform Conference, and the big focus was on Community. Our Power Platform Community Success team featured a booth where attendees could connect with us, receive fun conference giveaways, and do meet-and-greets with executives and leaders in Microsoft Power Platform, with a total of 14 executive and all-star Meet & Greets, allowing attendees to personally connect with the Microsoft team and ask them questions.
Many selfies were taken, and there was a long line to meet many executives, including our Business Apps & Platforms, Corporate Vice President, Charles Lamanna. In the spirit of the conference mascot, two dragons also took pictures with attendees, wonderfully played by Hugo Bernier and David Warner from the Community Success Team.
The booth featured QR codes to help attendees connect in many ways, from the newly launched Power Up program to "Join the Community", finding a user group, and joining our Power Platform and Dynamics 365 Community LinkedIn groups. The booth was also "swag central," giving away thousands of items to attendees, all in celebration of Community and Power Platform. All told, the Community Booth gave away:
2,000 pairs of socks
40,000 stickers
2,000 pins
2,000 mouse pads
1,700 micro cloths
300 hoodies​​​​​​​
COMMUNITY PANELS & MEETUPS
Community Success facilitated a panel discussion for User Group leaders as a scheduled session featuring community leaders Dian Taylor, Kylie Kiser, and Prashant G Bhoyar. Questions ranged from advice on how to keep engagement going between meetings to 'What are user groups for?' There was a ton of continued interest in the Microsoft Dynamics 365 and Power Platform User Group Experience, which was promoted throughout the session.
10 Community Meet-Ups happened during the conference, ranging from a meetup of Federal Government customers to a Latino community meetup to A Women and Allies in Power Platform impromptu meetup. They brought great energy to the community side of the conference.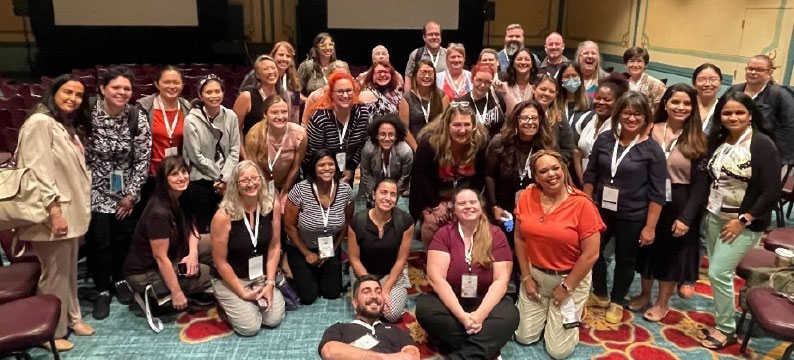 We also hosted a Community speaker lunch on Tuesday in honor of their hard work and to say thanks for being part of this inaugural event.
Excitement for the conference was driven in the community and with customers through initiatives including the Community Give Back, which asked community members to share their stories for an opportunity to receive one of five passes to the conference. Submissions were provided and chosen by the Community Success team.
To support local communities in Orlando, Microsoft donated full conference passes to Black Orlando Tech, a local non-profit supporting minority economic advancement in Central Florida. Members were able to attend sessions and meet people in the community by attending the event in Orlando.
In thinking about how Microsoft can bring support to our community we are looking to understand what all of you would like us to bring to all the different kinds of events that are out there in our big tech world. To join in the conversation please join the Microsoft Global Community Initiative whether you are a community producer, learner, attendee, career switcher, new to Microsoft products or long-time member. All are welcome for you to help shape how Microsoft supports community-led programs, initiatives and events in years to come.